Fiche technique
Fabricant :

Neumann

Modèle :

M-49

Catégorie :

Micro statique à tube à large membrane

Fiche créée le :

17/07/2005
Afficher les caractéristiques
Neumann M 49  Multi-Pattern Tube Condenser Microphone
Source : http://recordinghacks.com/microphones/Neumann/M-49
The M 49 was a multipattern large-diaphragm tube microphone with an important new innovation: the mic's pickup pattern could be adjusted remotely, by a dial on the power supply.
Another new innovation was that the mic maintained nearly equal sensitivity and output level across patterns — unlike the U-47, for example, which was 5dB hotter in Cardioid than Omni.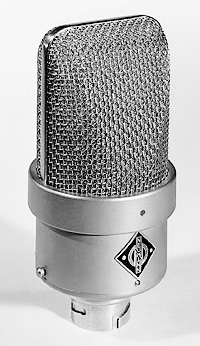 Maintaining output level required a change in the polarization voltage circuitry. Whereas the U-47's circuit would disconnect the capsule's rear diaphragm in Cardioid mode, in the M 49 both diaphragms were always polarized — the front at a constant 60Vdc, and the rear from 0Vdc to 120Vdc. When set to Cardioid, the rear diaphragm polarization voltage was 0Vdc.
Like its omnidirectional sibling, the M 50, the M 49 was initially released with a Hiller MSC2 tube, soon replaced by the Telefunken AC701 subminiature triode.
The two mics are nearly identical in appearance; the primary distinguishing cosmetic feature is the color of the "jewel" above the Neumann badge. On the M 49, the jewel is red.
Output impedance was wired at 200 Ohms from the factory. The product manual advised that "by changing two links on the output transformer, the amplifiers can be easily changed to 50 Ohms whereby the output voltage falls by 6dB."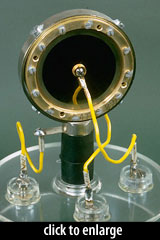 The capsule in the original version of the M 49 was Neumann's PVC-diaphragm M7. This was subsequently replaced (as in the U47) with the Mylar-diaphragmmed K49. (The K49 was K47 capsule, identical in every respect but the name.)
Production M 49 microphones incorporated the following major component changes:
1951 - Hiller MSC2 tube, M7 capsule
1954 - MSC2 replaced by Telefunken AC701
1956 - M7 replaced by K49 capsule
1958 - the M49b incorporated a new "BV11" transformer and some circuit-value changes, according to Klaus Heyne.
1961 - for the broadcast market, the M49 was fitted with a 7-pin Tuchel connector and redesignated M 249.
Klaus Heyne

All M49 models after 1957 had a "cardioid only" switch built in, to achieve a 4dB s/n improvement [as compared to setting the pattern] remotely, from the power supply.
The M 49 was discontinued in 1974.
M49 capsule/circuitry photo credit: Oliver Archut
The Neumann M 49 is also known as: M49, B-M49.
The mic was released in 1951.
Specifications
Frequency Response - Omnidirectional

Click Graph to Compare!
Frequency Response - Cardioid

Click Graph to Compare!
Frequency Response - Bidirectional

Click Graph to Compare!
Pickup Patterns
Pads & Filters
Omnidirectional (n/a mV/Pa; 40 - 16,000 Hz)
Cardioid (n/a mV/Pa; 40 - 16,000 Hz)
Bidirectional (n/a mV/Pa; 40 - 16,000 Hz)
 
| Capsule Dimensions | Impedance | SPL/Noise |
| --- | --- | --- |
| Diameter n/a | 200 Ohms (Low) | Max SPL: 125 dB |
| Weight | Length | Max Diameter | Interface(s) |
| --- | --- | --- | --- |
| 800g (28.22oz) | 163mm (6.42'') | 80mm (3.15'') | |
Power Specifications
Includes tube power supply
Masquer les caractéristiques
Manuels et autres fichiers
Autres
Micros statiques à tube à large membrane Neumann
Autres dénominations : m 49, m49